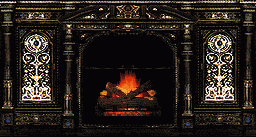 This song was written by Robert Wells and Mel Torme. It was born from fond memories of Christmas and wintertime, so it might only be popular north of the tropics.

The MIDI file source for this song is hosted by Dave the Drummer's Jazz Midi Page.

I constructed the Tavern Fireplace by merging a fire graphic found on the web with part of a Might and Magic bitmap. The person who identifies it gets bragging rights.